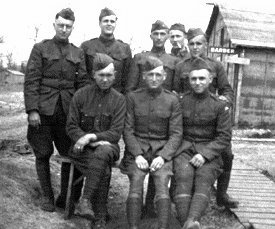 Weldon McCoy Barr
Weldon is in the back row, on the left, the first soldier. All war pictures were taken by Weldon. Weldon McCoy Barr was born and raised in Franklin, Venango County Pennsylvania. Early in 1918, he was voluntarily inducted into the United States Army when he was 25. He was sent to Carnegie Tech in Pittsburgh to the Langdon School of Aeronautics, because he was a pattern maker by trade. Then he went to Camp Hancock, Georgia and later moved to Camp Upton in New Jersey. He was shipped again overseas on the ward liner Siboney where he was an acting sergeant in charge of the 5th Casual Company. He landed at Brest, France and camped with 3,000 others between the hedges in 6 to 10 inches of mud. Following his experience in Brest, he was shipped off in a boxcar to Ordnance Headquaters in Mehune Surerve, France. He was shipped off to Suasson with the French, repairing machine guns and other ordnance. After the Amistice was signed he was sent back to ordnance headquarters in Mehune. In July 1919 he returned to the United States on the Mallory and was discharged at Camp Dix.
Ordnance Sergeant Weldon M. Barr U.S. Army
Below is a diary Dad kept in a pocket notebook
Sept. 3, 1918 At camp Ripton, New York. Prepared to leave all day and had big campfire until time to leave at 11:00 p.m. Marched to train and left for the port.
Sept. 4, 1918 Arrived at Song O Island City 4:00 a.m.. Took ferry to Hoboken and boarded the transport Siboney.Given hot coffee and sandwiches by redcross.
Sept. 5, 1918 On board all day and quartered on E deck down in the hold. At 8:00 p.m. two government tugs appeared and in 2 hours we pulled right past the statue of Libery. A memorable night.

Sept. 6, 1918 At sea and sick-O Lord how sick. Three transports and a destroyer.- Windy
Sept. 7, 1918 Monday Still coming up - sea rough
Sept 8, 1918 Tuesday I feel better today but dizzy
Sept. 9, 1918 Wed. I ate a little dinner and feel more like myself this afternoon - Mother's Bir
Sept. 10, 1918 Thursday Had target practice and our convoy left us. Sea calm and weather warm
Sept. 11, 1918 Friday Feeling fine, day warm, nothing new but everybody in better spirits. Big night on E deck after abondon ship drill No convoy
Oct. 12, 1918 Saturday Sighted small sailboat. First since we left U.S. Fair weather without convoy
Oct. 13, 1918 Sunday Foggy all day long and traveled slow Met convoy of 6 American destroyers Good time on E deck at ni
Oct 14, 1918 Monday 5 more destroyers joined us making 11 in all.
Oct. 15, 1918 Tuesday sub drill at 5 a.m. as usual sighted land at 6 a.m. dropped anchor at 10 a.m. left ship in lighters at 2 p.m. 15 min. later landed at brest mud 3 inches deep, marched up hill ˝ mile to camp. Bought nuts from kids People very poor and ragged wearing wooden shoes, houses poor hillstone. More American than French. Wonderful buildings by American eng at docks. Many German prisoners guarded by Colored troops. Arrived at camp at 6 p.m. raining hard.Mud deep.Pitch pup tent with Boursiau. Went to bed in mud. Called out at 2 a.m. and given 2 more blankets to help from freezing
Oct. 16, 1918 Wed. Camp is inside of a high wood hedge with brazor growing out of it. Very pretty at first. Had to go two miles for water.
Oct.17, Thursday Still raining, mud deeper. Drank some good wine and went to bed in mud in pup tent
Oct. 18,1918 Friday Had charge of three platoon to take down pup tents and put down large squad tents. more rain, tents did not arsin until 5:30 p.m.
Weldon is second from left.
Oct. 19,1918 Saturday Drank some star that Tookey went over the top to get. Came back loaded and gave us all a hoot.. The wild Irishman.
Oct. 20, 1918 Sunday Went with detail of 110 men down to work on docks. Got up at 4:30 a.m. marched 7 miles to docks worked all day and got back at 8 p.m.
Oct 21, 1918 Monday Sergeant of guard from 7 a.m. to 7 a.m. no rest. Orders to leave camp in morning.
Oct. 22. 1918 Tuesday Revellie at 2 a.m. .broke camp. Started for train - 7 miles at 5 a.m. had a memorable side down side streets to get ahead of marching column. Reminded me of stories of the black knight Boarded train of boxcars. Each car marked 34 men or 8 hores Varconcelos had charge of car . I had charge of grub. Pulled out at 5 a.m.. Passed through some very pretty country.
Oct 23, 1918 Wednesday Passed many beautiful towns and interesting sights. Lots of vineyards.
Oct.24, 1918 Thursday Camp Bauvoir Arrived at camp near Mehune and went to warehouse where we bunked.
Oct.25,1918 Friday Around camp all day and got fixed up. Had my hair cut for first time since I left U.S.
Oct. 26, 1918 Still Leut. Housors Orderly. So went down to barracks and had a real hot bath . first hot bath since I left. Pitts. And first cold one since I left Hancock. Had a big feed at farm house att… Baousseau Serg. Rocke, Sitby, Kelly, & Abb. Sons feed 6 fr. piece
Oct. 27, 1918 Sunday Went to Mehune had supper at Jig Jag. Saw house where Joan of Arc lived. And many other sights.
Oct. 28, 1918 Monday Inspected a whole car of salvaged rifles to see if any are loaded
Oct.29,1918 Tuesday Went to Mehune at 10:30 a.m. with Hickman and Neeby and saw the town. Went up in a tower of an old castle built in 1403 over rock high 125 winding steps. Had supper at Jig Jag and cocoa and cake at Y
Oct. 30, 1918 Wednesday Leut. Houser left today for Tours, my days of bliss are over and I will have to go to work. Went to town with his bagage and stayed all day.. Had supper at Jig Jag.Some kid. Attened a meeting of masons at the Y about 100 there officers and men . Served cocoa and apple pie Good time, talk on Nice
Marshall Foch and General Pershing at Chaumont-American ?H?
Nov. 6, 1918 Wednesday Office and payroll work. Rained hard all day and night
Nov.7, 1918 Thursday Transferred to wood working shop. Laying out work for cutters. My little Portugese friend Sirphin Sylvia was transferred. To Di Joan today. I miss him, as he was my buddy. Went to Y.M. for chocolate and biscuits.
Nov. 8, 1918 Friday S.O.S. and rain with a very pretty sunrise Got paid 41 ˝ f
Nov. 9, 1918 Saturday Rain. Start4d to make hat out of shell yesterday
Nov.10 Sunday Nice day but cold. Capt. Moore held us out in the field while other officers searched our quarters for souveniers. Take all they could find. Moved into barracks in the afternoon.
November 11, 1918 Monday Braussean and I celebrated the victory in Mehun. The town went wild -so did we. This is the Boat that brought me back to God's Country- Weldon The Armistice was signed at 5 A.M. The last German fired at 11 A.M.