The Frenchman
Florent Xavier Lecavellé - Mirecourt, France - 1800's
Mirecourt, France to Bradford, Pennsylvania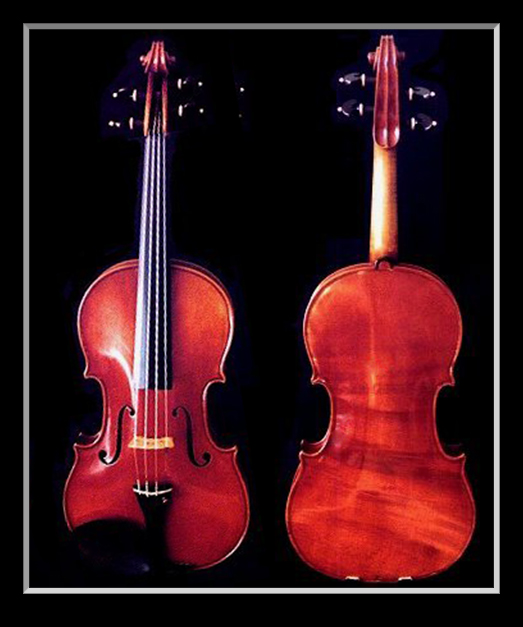 f you are too busy to develop your talents, you are too busy.
© Julia Cameron
This is a French violin made by F. Lecavellé in Mirecourt, France in the 1800's. Lecavellé worked for Bernadel and the Brothers Gand at Paris.Florent Xavier Lecavellé nickname was "François". He is born in Les Epesses, Vendee, France on July 4, 1802.His mother lived in Mirecourt (where she was born) when she met Nicolas Lecavellé (a soldier in the french revolutionary army). They got married inMirecourt on December 10, 1797 and followed Nicolas's regiment until Nicolas' death January 30, 1814 in Florenville (now in Belgium). Nicolas' parents lived in the north part of France and his father was a joiner.After the death of Nicolas, the whole family went back to Mirecourt.
Florent Xavier is the third from 7 children (3 of them died as infants). His brother, Victor Henri was also a violin maker (in french: luthier)Both of them had children who were also "luthiers". That is why it is difficult to know who made exactly what.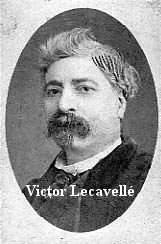 The books about violin makers are often confused about "François Xavier", "Victor", "François Victor" the "Lecavellé"s! Ages or dates of death don't reflect the reality of birth, marriage and death certificates.
Florent Xavier -- alias François -- was the first to be violin maker and he remained always in Mirecourt. His son Victor Lecavellé--who was born May 14, 1836 in Mirecourt and died during 1903 in Beziers (south of France) -- learned his work from 5 years with his father and then went to Pariswhere he worked with Bernardel. He went then to Nimes (1856-1863) and opened his own workshop in Beziers where he died. The label in the Frenchman says "Mirecourt" and was made in the first half of the 19th century, it is the work of the maker Florent Xavier Lecavellé.
This history of the Lecavellé family is provided by the GGGrand Daughter of one of the luthiers. Denyse Louis, Nancy - France.
The violin was owned by William Major (Bill) Toy-my great grandfather. He played in Jamison's Jocular oil Region Orchestra and in R.M. Klingensmith's Concert Orchestra in Bradford in the late 1800's. He lived in Derrick City and at #7 Florence Street Bradford, Pa. and finally diedin Franklin, Pa. at the home of his daughter Mrs. Margaret "Maggie" TOY (BARR) ESPY - my grandmother. He is buried in Oakhill Cemetery in Bradford.

The story of the Lecavellé (nicknamed-the Frenchman) is that greatgrandpa "Bill" Toy was upset with a dancer at one on the orchestra performances and struck the person over the head with his violin. It was repaired in Bradford,Pa in 1890 and there is an inscription to that effect inside the violin.
The violin was loaned to the DeWeese family in Philadelphia, Mississippi. They had a lumber store there. Harriet DeWeese played the violin in an orchestra and she so loved it that she tried to purchase it in 1926 from the family, but my greatgrandfather refused to sell it.

Standing with violin -Bill TOY * Trumpet player Ben TOY * Trombone player William Henry TOY
When I was in the 5th grade at First Ward Elementary School in Mt. Vernon, Ohio, violin instruction was offered. My father Weldon Barr (Bill Toy's grandson) got the violin from the family for me and I have been playing it ever since.Through elementary school, high school and college at Capital University were I majored in Music Education.

It was repaired by Joseph Ricker in Columbus, Ohio in the 1950's and by Jerry Forestieri's shop in Cleveland, Ohio in the 1970's. After many repairs and the top was not all original wood, I made the decision to have the top replaced and keep the old top for memories. John Masters of Columbus, Ohio made a new top for the Frenchman. He did an excellent job of matching the old wood and keeping the same form. I am very pleased with the results. He also saved the old top for me to keep.

Today it plays beautifully. It has a big round sound and the harmonics are wonderful. I play this violin for solo work and also teach violin lessons with it. It is around 200 years old now. I hope the Frenchman remains in our family forever and musicians in our family will continue to love and enjoy it.

When morn with its splendor illumines the sky
Save where a star lingers to watch the night die
And the gray shrouding mist from the valley uprolled
Is changed by the sun to an ocean of gold
That bears on its bosom cloud land as fair
As ever took shape in the realms of the air;
Ah! who that, enraptured, has gazed on the scene
Can forget the bright valleys and hills of McKean?
-The Reporter Jan. 31, 1890 - Mrs. Jennie E. Groves-

I wonder if the Ghost of William Major Toy ever hears its lovely voice.
The violin has been a labor of love for me!
************************