~ Isaac Stern ~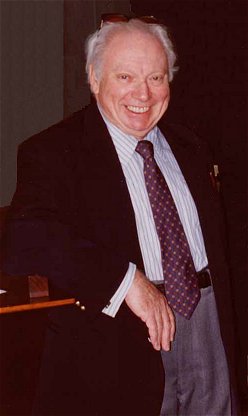 When I was in college my violin professor spoke of Isaac Stern. He consider what Stern did was the best. He liked his style and technique, and he liked his sound and he liked his musicality. Time passed..............and I became a violin teacher. I bought the usual CD's of the many present day artists and also the greats of the past and enjoyed them. By this time Isaac Stern was not giving as many violin solo performances but was involved in other aspects of the violin music world. I was never fortunate enough to see and hear him in person, and after listening to these CD's, I have recommended his CD's as a very good listening experince for any student studying one of the solos he has recorded.He plays what I would term some of the most "honest" musical translations. I have great respect for Isaac Stern. I am reading his book Isaac Stern - My First 79 Years. He became a fine concert artist through a lot of hard work and he has continued to serve the music world. I think back to my college years and Professor Andrew Lisko speaking about Isaac Stern, and I think I have many years later rediscovered the magic in Stern's playing that my violin professor loved. I dedicate this page to Professor Andrew Lisko of Capital University.
Isaac Stern was born in Kreminiecz, Ukraine July 21, 1920. Isaac came to the United States when he was 10 months old becuase his parents fled the 1921 Russian Revolution. He grew up in San Francisco and studied violin with Naoum Blinder. When he was 14 he played the Brahms Violin Concerto with the San Francisco Symphony. His Carnegie Hall debut was in 1944 with the New York Philharmonic, he was 22 years old. He is Artist Laureate artist with CBS/Sony.

His film "From Mao to Mozart Isaac Stern in China" won the 1981 Academy Award for best full-length documentary plus he did the movie soundtrack for "Fiddler on the Roof."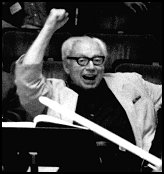 Isaac Stern was president of Carnegie Hall for 40 years, and led the effort to save it from demolition in 1960 and restore it in 1986. He was a founding member of the National Endowment for the Arts, and chairman of the board of the American-Israel Cultural Foundation and chairman and founder of the Jerusalem Music Centre. He was the first recipient of the Albert Schweitzer Music Award for -a life dedicated to music and devoted to humanity. Plus he received teh the Kennedy Center Honors Award at the White House in 1984.Japan gave Stern the highest award, The Order of the Rising Sun in 1997. He was awarded in 1991 the National Medal of the Arts and in 1992 the Presidential Medal of Freedom from President George Bush.
Isaac Stern died September 22, 2001. in NYC of heartfailure.