Let's FIDDLE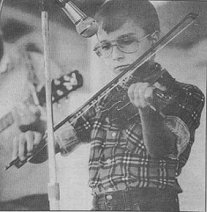 Fiddle tunes can be divided into many catagories: hoedowns, waltz, showtune, polka, jig, reel. A violin and a fiddle are the same instrument. Fiddling is fun.
There many styles of fiddle music: AMERICAN: including Old-time, Bluegrass, Texas, Canadian, CELTIC: including Scottish, Welsh, Irish, English

I am a clssically train violinist/violin teacher. Over my years of teaching, I have had a few students ask if they could do some fiddle tunes. Keeping a student interested in wanting to play his/her violin is a teaching skill.

My first fiddler is the one pictured to the left. He began violin when he was 6 years old. By the time he graduated he had won several prizes for his fiddling and also a showtune contest. I learned how to fiddle along with him and together we were able to turn him into an acceptable fiddler..... although I will have to say at the recital his Haydn Concerto sort of had a fiddle swing to it....



---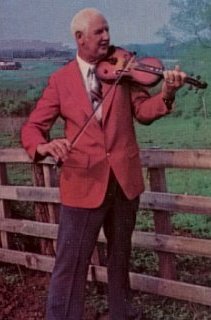 The only professional fiddler I have ever known was Jim Pontius. He was a judge at a few of the Wayne County, Ohio fiddle contests my student and I attended. We enjoyed the fiddle music program he would play at the end of each contest. Fans would cheer him on and yell out requests. He was a very kind man and even stopped by my studio once to give me some music for my young fiddler.

I sent my young fiddler to him for some lessons and they had really good time. However, my student was used to reading music and Jim played by ear.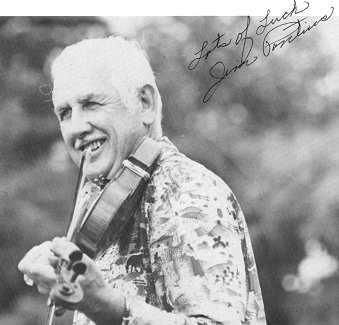 Pontius played the best Orange Blossom Special and I also enjoyed his version of the Mocking Bird. I think my all time favorite of his was his interpretation of the Tennessee Waggoner.

He produced at least two audio tapes. One is titled Jim Pontius Down Home Fiddle and the other was Jim Pontius A Touch of Bluegrass. I doubt they are being produced now. However you might find one in a store or used. It would be well worth trying to purchase.

Jim shared some phand written fiddle music with me, I remember when he showed up at my door; he was very tall and had on his western hat and boots. He always had his hat and boots. Jim Pontius was interested in promoting Bluegrass music and he encouraged many young people to join in the music.

I have added one of the printed music solos below. I think he would have wanted it shared.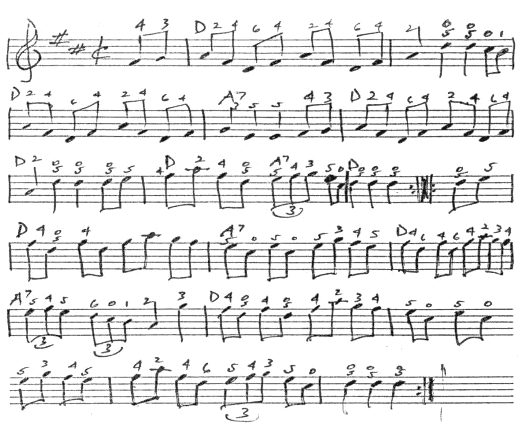 ---

Often times fiddlers play in groups or in jam sessions. Playing by ear and interpretation of songs are important and these are called "licks or breaks" as the rotation of the group comes around to you (banjo, guitar....fiddle, its your turn) you can play the song straight up as its written, or preferably with a variation or twist, and this is called a "lick or break." This often gets special applause from the crowd. 'Wow, did you hear that fiddle break.' These breaks can be practiced in advance or simply created on the spot. Thats what playing by ear is all about, creating music on the spot.

In a fiddle contest all things are important from the way you look to your stage presence. Song selection is very important since a song everyone likes will evoke stronger feelings than a boring song nobody likes. The most important thing is how you sound. Creativity is encouraged; putting special licks in tunes, combining songs in the same key into medleys. All these thing impress judges and also impress the crowd. Song selection is important and a strong reaction from the crowd (stomping of feet, hooting, hollering) will get you higher marks.
The most important thing is to play from your heart and just have fun. Having a back-up playing with you is better (guitar) because it helps create the total sound package.
---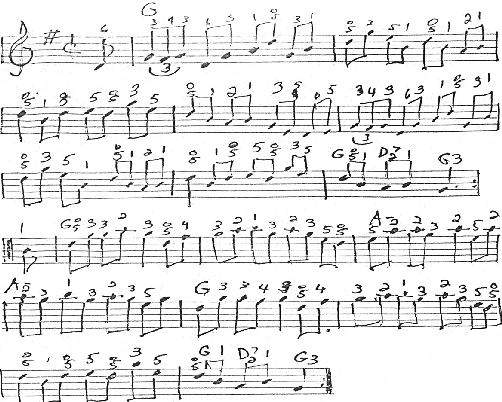 ---

Suggested literature:
American Fiddle Method by Brian Wicklund
two volumes & includes a CD
Published by Mel Bay
Brian Wicklund
Fairfield Fiddle Farm Fiddle Book
Volumes 1 & 2 by Charles Hall
The Fiddle Club
Collection 1: For the beginning to intermediate violinist
Collection 2: For the beginning to intermediate violinist
Collection 3: For the intermediate to advanced violinist
Music Books Marshall Crozman Music LTD
Calgary Fiddlers

Showtunes
Listen to the Mocking Bird
The Orange Blossom Special

---

Good fiddling requires qick reflexes. Test your Response time!
Click on "Start" first, and wait until the background color changes. As soon as it changes, hit "stop!"


Free DHTML scripts provided by
Dynamic Drive