Dr. David L. Fulton
Violins!Violins!Violins!Violins!Violins!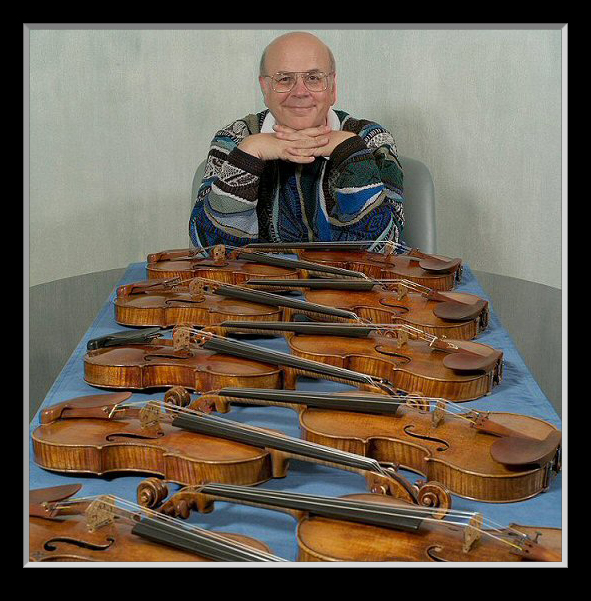 Dr. David L. Fulton & instruments
The violins are (front to back):
Pietro Guarneri, Mantua, 1698, ex Shapiro
Giuseppe Guarneri del Gesu, 1737, Isaac Stern, ex Panette, ex Balatre
Giuseppe Guarneri del Gesu, 1735, d'Egville, ex. Prince Wilhelm of Prussia, ex. Lord Yehudi Menuhin
Giuseppe Guarneri del Gesu, 1738, Kemp
Giuseppe Guarneri del Gesu, 1743, Carrodus, ex Hottinger
Giuseppe Guarneri del Gesu, 1737, King Joseph, ex. Havemeyer, ex. Hawley
Giuseppe Guarneri del Gesu, 1742, Lord Wilton, ex. Lord Yehudi Menuhin
Antonio Stradivari, 1715, Baron Knoop
Antonio Stradivari, 1713, Baron d'Assignies
Antonio Stradivari, 1709, La Pucelle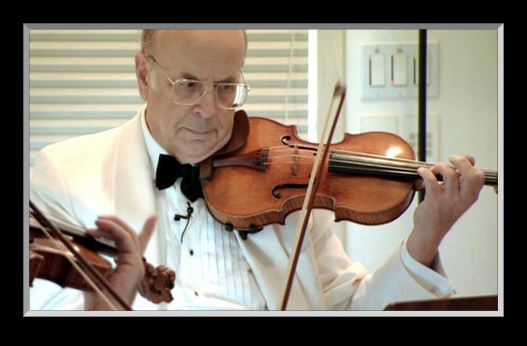 Todays ideal violin collector is David L. Fulton.
Dave has spent most of his life playing and enjoying the violin and its history.
He was concertmaster of the University of Chicago Symphony for three of the four years he performed with them.
Dave was a member of the Hartford Symphony for three years.
A collector of great violins who also is a player and who cares for the instruments more than just as an investment is special.
These beautiful violins are visited and played by some of the world's greatest violinists.
The main concern for David L. Fulton is preservation of these priceless Stradivari, Guarneri, and Bergonzi.


The picture at the top of this webpage shows many of the violins in his collection. I have listed the names of the ones pictured. The picture to the left is Dave Fulton performing with his quartet.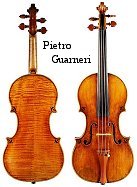 Dr. David Fulton received his undergraduate degree in Mathematics from the University of Chicago and went on to earn his masters and Phd. in Mathematical Statistics at the University of Connecticut.

The first fine violin that entered the collection was the Pietro Guarneri of Mantua 1698 ex. Shapiro. Dave purchased it from Bein & Fushi of Chicago. Petrus Guarneri ornamented this violin with fleur-de-lis corner inlay. It has a two piece back and ribs of small-figured curly maple and a soft orange-brown varnish. Dave still has his Petrus Guarneri.

David Fulton is in the process of writing a wonderful book about the Fulton Collection
Confessions of a Violin Collector. It will include personal history, the instuments, pictures and possibly audio files.


A recent project by David L. Fulton with violinist James Ehnes has been a showcase recital with violinist James Ehnes playing the instruments of the David L. Fulton Collection.
The James Ehnes Homage CD/DVD showcases 12 of the world's greatest violins and violas in the Fulton Collection includes both CD for audio files and DVD with video.
It includes music, photography to view the instruments up close and an interview with David Fulton.
Available at Onyx
Available at Amazon Canada




The Fulton Collection is the finest violin collection in the world today.


links to articles about David Fulton
The Strad, November 2002,
read the article - The David Fulton Collection
why he spent a fortune on the world's greatest instruments
also In focus - Stradivari Bass of Spain cello

From Tales of a Wayside Inn
by Henry Wadsworth Longfellow

The instrument on which he played
Was in Cremona's workshop made,
By a master of the past,
Ere yet was lost the art devine;
Fashioned of maple and of pine,
That in Tyrolean forests vast
Had rocked and wrestled withthe blast,
Exquisite was it in design,
A marvel fo the lutist's art,
Perfect in each minutest part!
And in its hollow chamber, thus,
The maker from whose hands it came
Had written his unrivalled name
Antonio Stradivarius.

Photo images are included by Courtesy of the David L. Fulton Collection
They may not be downloaded for personal use or on any other web page.