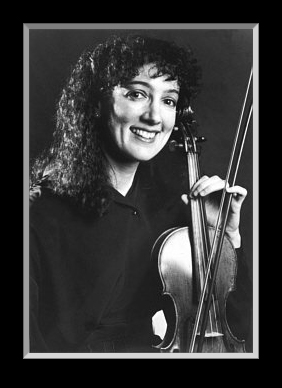 ~ AMY BARLOWE ~
---
Amy Barlowe is a violinist and composer.
She received her B.M. and M.M. degrees from the Juilliard School after studies with Ivan Galamian and Margaret Pardee.
Her chamber music coaches include Josef Gingold, Felix Galimir, Samuel Rhodes and Earl Carlyss.
She received the Helena Rubinstein Scholarship, Atkinson and Northwest Area grants
---


Amy actually started studying seriously at 16! She began on the viola at the age of 9 after winning her choice of instruments as a result of an ear training contest in her elementary school. When she joined the orchestra, though, she soon found that it was the melody she was looking for, and although she loved the dark sound of the viola, she desperately wanted to play the violin.

Amy had to start studying underground, though, because the orchestra teachers desperately wanted her to stay a violist! In fact, a cello teacher actually condemned her to the last seat of every orchestra she would ever play in (and she was about age 10 or 11 at the time!).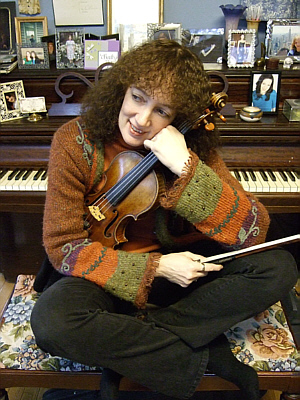 She finally started private lessons with a local teacher at 13, but after a few years realized that the Mendelssohn concerto had to be more difficult than it was seeming. It turned out she had been playing everything by ear - never counting a note! (Her parents were nature illustrators and really didn't know what the difference between teachers could be.)
One day, she went into NYC to Wurlitzer to try out violins. If it weren't for the salesman, Charles Ponall, she would never have become a violinist. When he heard her play, he told her mother that if she didn't "get with a good teacher right away, it would be too late". He suggested that she start from the top, and that day her mother called to set up an audition with Ivan Galamian. He sent her to Margaret Pardee for a year of basics before coming back to him. Amy attended Meadowmount School of Music, Westport New York that summer and practiced between 6 and 10 hours a day. The following year (the year after she graduated from high school) she attended Juilliard Pre-College and Meadowmount, and the year after, she was accepted at Juilliard.
Probably because she started so late it's easier for her to remember in the greatest detail all of the wonderful training she received. But she also can remember with great clarity the pain and anguish that she suffered in reconstructing her technique. It was a very difficult time of her life, but she wouldn't trade it for the world. Looking back, she feels that her experience has enabled her to reach inside the minds of the many students she has worked with who have had similar problems, and the extremely gratifying results have convinced her that her late start may actually have been a blessing in disguise.


She is on the artist/faculty of Meadowmount School of Music and the Ohio Conservatory.
She has studied with Ivan Galamian, Margaret Pardee, Josef Gingold, Felix Galamir, Samuel Rhodes and Earl Carlyss.


Amy maintains a teaching studio at her home in Akron, Ohio.
With her husband, Alan Bodman, they formed the Duo [AB]2 (AB-squared). They have recorded for the Medici and Azica labels.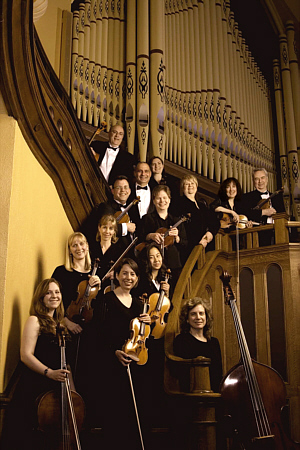 Amy Barlowe founded a vibrant new chamber orchestra - Akron Baroque.
---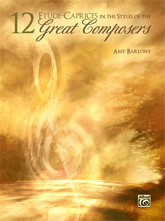 Amy has written and published "12 Etude-Caprices in the Styles of the Great Composers".
It is progressive and chronologically ordered and Practice Guides follow each etude.
A free sample of "12 Etude-Caprices in the Styles of the Great Composers" is available on her website.
This book is a great addition to the intermediate solo violin repertoire.

Amy has also published many other compositions for violin students. They are listed on her website.